Planning permission application of a shisha bar/lounge/cafe
A shelter must comply with the 51/majority per cent wall rule. The premises must also have planning permission, a valid fire safety certificate and keep noise, light pollution and exposure to second hand smoke or smoke infiltration into Smoke Free areas to a minimum.
Here are some of our current and past sheesha lounge projects.
Aroma Shisha Lounge
London, Croydon
Aroma Shisha bar which was set to be the largest shisha bar in London and designed by the Architectural and Interior Design team at HAD.
We planned to turn the former pub into a two-floor shisha and dessert bar called Aroma Shisha Lounge, with 6,000sq ft of floor space to seat 200 people.
The interior was a traditional shisha style and has recently returned from a trip to Morocco where he bought lanterns, chandeliers and booth seating.
The bar was split into separate floors for shisha smoking and desserts. The shisha area will have a roof specially designed to allow smoke out of the building without letting the rain in.
Read more: http://www.croydonadvertiser.co.uk/Teen-millionaire-s-shisha-bar-plan-pub/story-22877781-detail/story.html#ixzz3EFjaD9pu
Approval notice: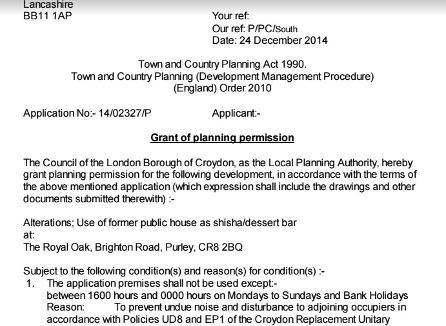 Cube Shisha
Blackburn, Lancashire
A design and build project at an existing well established business in Blackburn Lancashire. The new lounge is extended through to the first floors of adjoining buildings.
Due to the current smoking legislations in the UK a minimum of 51% open air is required. The structure was carefully amended working very closely with the structural engineer and building control officer.
Palm Grill
London UK
HAD we instructed to design for and advise the contractors on building an extension for Palm Grill based in Wembley London UK.
The project included:
- Full measured survey
- Feasibility study
- Sketch proposals
- Details plans
- 3D Design and Animation